I hope you have a very Happy Birthday today sweetie:D I hope you get whatever you wish for and more.
Harry and Draco also wish you a Happy Birthday.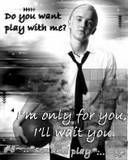 Draco presses Harry down on the silk sheets as his mouth ravages Harry's. Draco's lips move to Harry's throat nipping, licking and sucking his sensitive silken skin, causing Harry to thrust up into Draco, moaning at the incredible, building pleasure, coursing through his body. His hands start to caress Harry's slim, sexy body as Draco starts to slowly make love to Harry.
*hugs*