I loved Paul as an actor and a wonderful human being. I thought he'd live forever and never die. I'm so sad to see him go and his poor family and wife together for over 50 years.(That is almost unheard of)

So goodbye to a very beautiful man with the stunning blue eyes *sigh* And a wonderfully talented actor.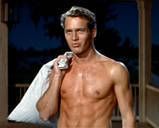 A liitle older here but still so handsome. He aged very well...