Well we all enjoyed the movie we went to see today Shrek The Third it was a lot of fun it ended up being cuter than I thought it would be and we will need to buy that one someday we already bought the other two. We have gone four weeks and have four weeks left to go with the movies package I can't believe how fast this summer is going.

Time flies so fast it isn't funny.

This is a picture of one of my favorite posters of these two I love how good their faces are drawn. I have this poster of them together.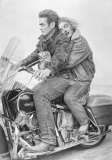 XOXOXXX